Top influencer outreach templates in 2023: Free + AI tools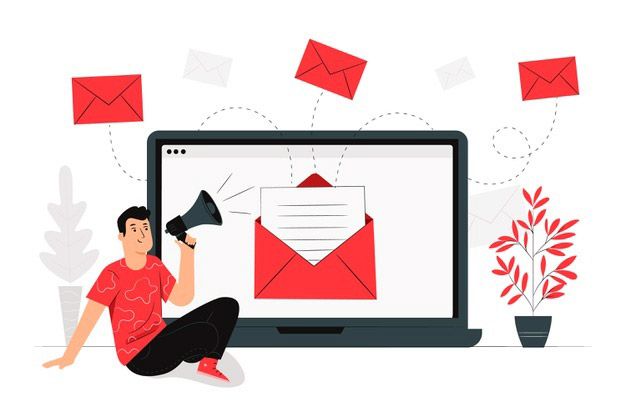 Come up with a right subject The subject line is the first thing an influencer sees. It is like a trailer for a movie. The influencer must know what awaits him inside. If the topic is irrelevant and uninteresting the letter will fly to the trash. Letter to the influencer about cooperation. Get the influencer interested in a fun and relevant topic
Personalize the offer, but don't overdo it.
Most likely, the addressee will delete the letter if it was copied for 1,000 different influencers. Write personally to each influencer you want to collaborate with. The structure of the letters may be the same, but adapt the message, add a little mention of your favorite influencer's posts or say that you went to the same school, if that's true. Make the influencer feel special and you will look more like a person, not a company bot created to repeat the same type of actions. But here lies the danger of becoming too comfortable and playful. And besides, jokes are not always well conveyed in a letter. No matter how cold an influencer may seem, your task is not to break the ice in a relationship, but to agree on mutually beneficial cooperation. Maintain a professional distance, otherwise, if something goes wrong, you will be uncomfortable pointing out mistakes to the influencer, and he will see sudden changes in attitude. Make the offer useful and specific.
The message "Write about my artist store" will not help you stand out from dozens of similar offers. But if you send an email with one or two post ideas, and add some cool product photos, you can help create potentially interesting content for the influencer's audience and your future clients. *Keep your sentences short and clear. * There is such a presentation model - an elevator pitch, which is supposed to convince an investor to buy a product while you are riding with him in the elevator.
How to write a letter to an influencer
Be merciful - speak not only to yourself but to the point Let's adapt this model to our task. Just 6 steps:
Who are you? Introduce yourself so that it is clear who is talking and how you are interested in your fellow traveler.
What are you doing? State your product, mission, and company goals so that it is clear what you are striving for.
How do you do it? What is the know-how, specificity, or difference between the product and the offer?
What problem are you solving? If there is a problem, then there will be a response and sales.
The target audience? Who are these people you want to help?
What do you want from a person who no longer knows where to get to you in this little elevator?
Perhaps, you may need a little life hack: imagine that you will pay one euro for each written word. If the letter looks like it's going to bankrupt you, cut it down to a tight budget. A couple more tips to keep your email short and easy to read: Add more space. When the addressee sees huge blocks of text, the first thing that comes to mind is "Too much reading." This usually results in the letter being closed by a quick glance. Break the text into paragraphs: one thought - one paragraph. This is more likely that even with a cursory reading you will be able to attract the attention of the addressee. Use short sentences. They will help the reader move quickly to the next points. And you - to write only the necessary words to convey your idea.
Here are influencer proposal templates to which you can add the missing information.
TOPIC: summary of the content, no more than 8 words. CONTENT:
Hi [influencer name]! My name is [your name], and I am [your position] at [company name, website link, or social media community]. I recently discovered your account on Instagram (TikTok, Youtube, Blog, and many more) and now I enjoy following it. I really like your style and presentation of the material. Your post about [mention a specific post] really made an impression [briefly, in one sentence, summarize why this post was highlighted; personalize but don't get too personal]. I would like to work with you to suggest content for your blog [eg 10 Ways to Wear a T-shirt with Cool Graphics] featuring designs from our store [store name, link]. If you want to take some live shots of our product, I will be happy to provide you with some samples. I am also attaching some photos showing the lifestyle of our target audience. Thanks so much for your time and let me know if you're interested! And, of course, if you have any other suggestions, write. Thanks! [Your name].
Try to give some freedom when you offer details of your vision of the advertisement Next example:
1 letter (greeting)
Hello! We are the publishing house [name, link], we create useful and interesting books for children and parents We offer cooperation: our new series [publisher name, link] has been released - these are books for researchers from 0 to 99 years old, which will teach you how to understand heavenly messages. This is a wonderful gift for children and adults in love with the stars. We would like to send you books from this series for review. We will be grateful for your feedback about us on social networks! We are also happy to provide you with personalized promotional codes for your audience and individual links. We are ready to continue to send you interesting news and talk about the news first of all! Thanks for your reply, we are happy to receive any feedback!
2nd letter (if influencer agree)
Thanks! We are very glad to cooperate. To send you a book for review, we need:
Your phone.
Email for communication.
Postal address. So that we can read your opinion about our book, in your review, we kindly ask you to mark our account using a mention [@mention] and #hashtag.
3 letters (if influencer doesn't agree)
Thanks for the answer! Can you find out what are the barriers to posting a review about us in your account? So that we can plan further cooperation on conditions that are comfortable for you.
Submit Terms of Reference You got the influencer's favor, and agreed on the price tag and payment terms. Now it's time to get down to the root. Any advertising integration must be accompanied by technical specifications, otherwise, it will be more useful to make airplanes out of banknotes and launch them through the window.
Get down to business thoroughly. As an example of technical specification for advertising, you can take the following template and it is desirable to write all the presented positions in a thesis:
Date and term of placement
The period during which it is necessary to send the material for approval
Promo code for subscribers and a link to the site
Post format (post, story, video, etc.)
Places of links and promo codes: in the profile description, in the body of the post, in the description of the video, in the story, etc. (note that, for example, in Instagram and in TikTok, links in the body of the post are not clickable)
Terms and conditions of using the promo code
Do I need to mention the brand logo
Age restrictions, if any
Requirements for the content of advertising, text texture, format, and content of the photo (video)
Do I need a demo of the product, checkout process, unboxing, etc.
Do I need to tag the brand account, add special hashtags, etc.
Warn about prohibitions (for example, mention other companies and brands)
Leave contacts (links to social networks and the website) so that the influencer is sure that you are a true advertiser
Calculate the KPI
Be sure to ask the influencer for publication statistics a couple of days after integration. All social networks provide detailed information on each of the publications. This can be a screenshot from YouTube Analytics, an Instagram business account, TikTok, or other social networks. The main thing is the numbers.
Your business is to calculate the KPI and understand whether the money spent has paid off. This can be done as follows: See the likes, dislikes, views, comments, saves, reposts, and clicks ratio.
Calculate CTR (click-through rate), ER (engagement rate), ERR (reach-based engagement), and other key metrics. Read the comments. Often, publications with advertising integrations write "sold out", this is not as bad as it might seem. It happens that they write "even the advertising is of high quality here", this outcome is the most top-notch. Subscribers can also leave questions about your product (service), make sure that they do not go unanswered.
Links with UTM tags. A great method to count website conversions, purchases, and leads. In general, Google Analytics will help you. Promo codes. If you are selling online, then a good personalized promo code makes all the weather in the house. Promo codes are loved by more than a quarter of people: especially those who often buy and love counting their money.
AI tools
AI tools have made writing conversion emails a much easier task for not only copywriters but also influencer marketing managers. Such tools use GPT-based technology, allowing you to generate high-quality texts that will be answered by influencers who receive them. Here are two such solutions:
Yoloco - Template Generator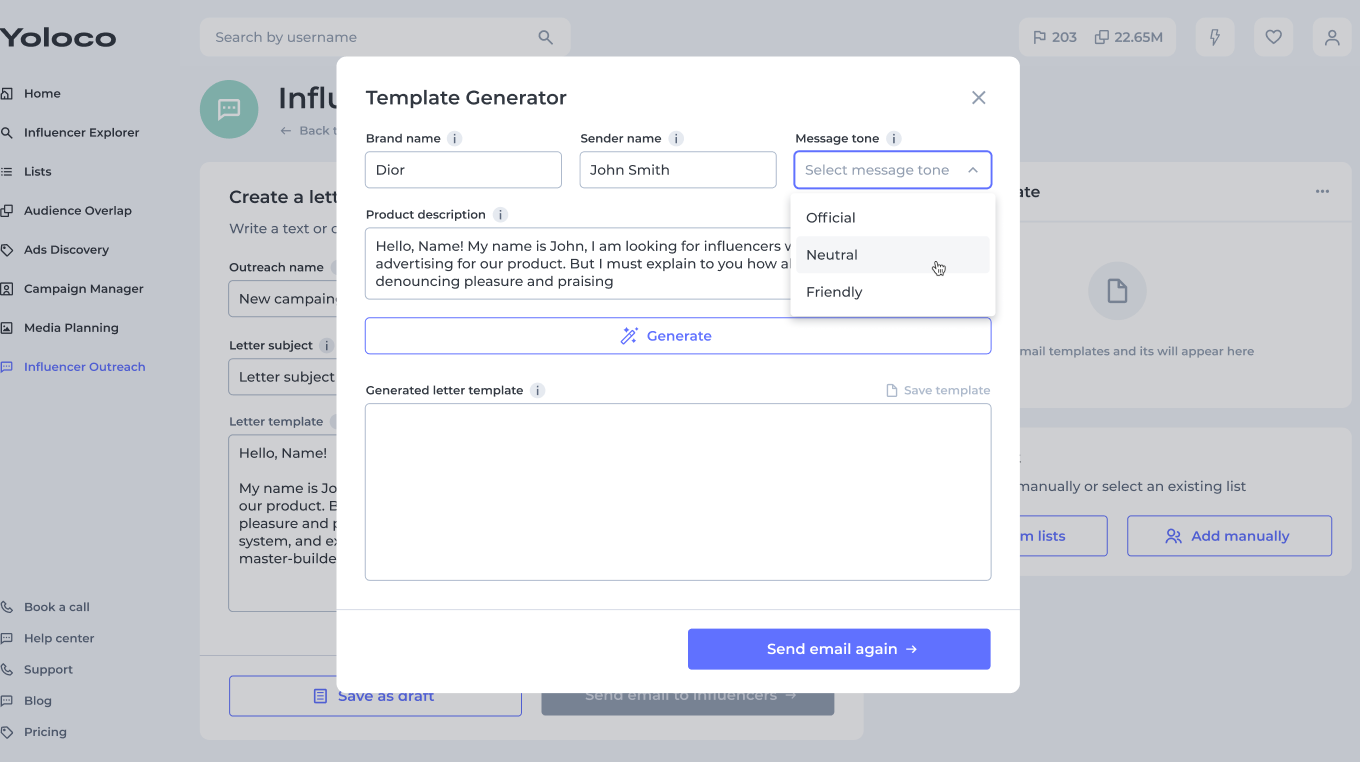 The Yoloco Creator Management Platform enables you to not only send hundreds of thousands of messages to influencers directly to their emails but also generate a good template using OpenAI's GPT. Simply enter your key, fill in the form, and you'll get a well-crafted template that you can use right away.
Copy.ai
This service helps you generate not only articles for blogs and posts for social networks, but also letters.
All of these methods will help you run an effective campaign. Good luck!