Top Crypto Influencers On Twitter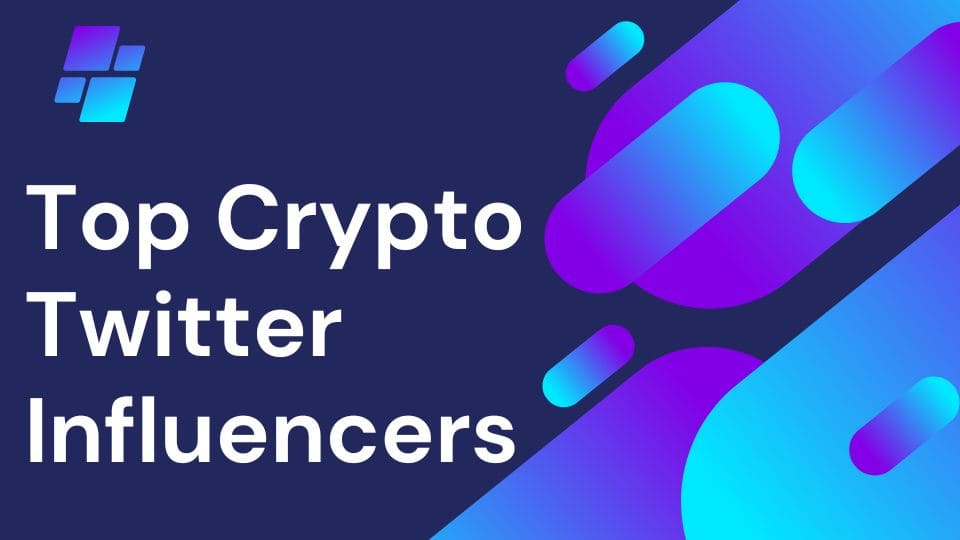 Are you looking for active Crypto influencers on Twitter to follow and learn? Over the last few years, Twitter has become the home of the crypto industry. Twitter is the social media platform people rely on to discover the newest currencies and the latest crypto trends. Its fast content delivery vitality and exposure make it the best avenue for marketing and advertising cryptocurrencies. Collaborating with the best crypto Twitter influencers may promote your crypto-related products and services. But with so many scammers, click baiters, and downright imbeciles out there, it may become stressful when choosing who to follow on crypto Twitter! To figure out this, we have curated a list of the 10 top Twitter crypto influencers. But before heading towards the list, you must acknowledge who is a crypto influencer.
Who are Twitter crypto influencers?
People use Twitter mainly to tweet about bitcoin and other cryptocurrencies. These crypto influencers keep you updated with the latest news in the crypto world. These content creators always pump out great content to influence and educate people to invest in cryptocurrency. A popular and genuine crypto influencer can be highly enlightening and create a meaningful engagement. Following these knowledgeable influencers, you can learn trading secrets and improve your trading skill. These cryptocurrency influencers share market insights and provide a fun source for those who may not quite understand the ever-changing crypto concepts. To help you find active crypto influencers, we dug into Twitter on your behalf and created a list of select Twitter influencers. You must follow these twitter crypto influencers to keep a grip on all the latest crypto developments across the market.
Whether you trade or invest in cryptocurrency, we have listed the 10 Popular Crypto Influencers on Twitter that will help to update you about the crypto market. Following accounts like these, you can keep your finger on the pulse of the rapidly growing and evolving cryptocurrency industry.
Elon Musk on Twitter: @elonmusk
With almost 55 million followers on Twitter, Elon Musk, arguably the most famous person on this list, is known in the crypto world for his support of Dogecoin. From repeatedly changing his Twitter bio to Bitcoin, Ethereum, and Dogecoin, to collapsing the crypto market with a single tweet, Musk can push the price up a few percentage points. With a single mention of Dogecoin, Musk brought the price of Bitcoin by 57%. Being one of the wealthiest people in the world, people seem to hold their opinion in high regard. That is why a single tweet from this man can shake the industry. In addition to his affinity for Twitter, Elon owns several high-profile companies, including Tesla, Space-X, The Boring Company, and Starlink. Musk has over 100 million followers, but not all of them care about cryptocurrency. His followers like to see what he says about other areas, including technology and business. Following the undisputed King of Twitter and enthusiastic promoter of Dogecoin, Elon will get you a front seat to the "future of crypto" show. For all the cult of personality, we suggest giving Musk a follow if you haven't already.
Adam Back: @adam3us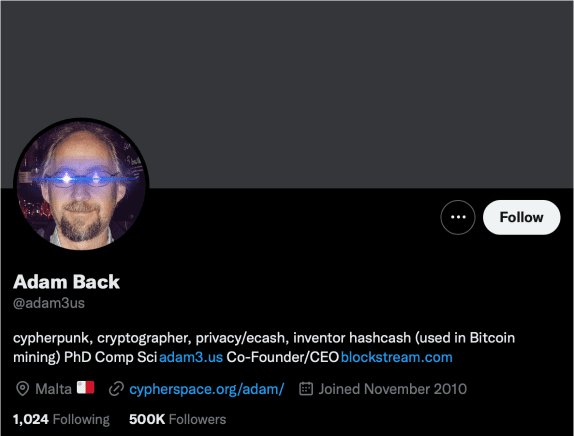 Adam Back, a cryptographer, and pioneer of early digital asset research and acceptance. Adam is best known for inventing the proof-of-work system, Hashcash, used for cryptocurrency and blockchain verification purposes. Currently, Adam is the CEO and co-founder of Blockstream, a renowned cryptocurrency company where many of the people who make up Bitcoin core development teamwork. Given his tenacity in space over the past two decades, plus his contribution toward the world's most revolutionary crypto-financial infrastructure, Back is not a person to be taken for granted, and his tweets hold visible weight, especially amongst his Twitter followers. As a cryptography advisor, Back has built a reputation as a top crypto expert. His expertise in security architecture, peer-to-peer systems, and cryptography protocols make him a top Twitter crypto influencer to follow.
CZ Binance: @cz_binance
CZ Binance, or Changpeng Zhao, is the CEO of Binance, the world's leading cryptocurrency exchange. He is also a holder of BNB and BTC coins. You can expect daily content about Bitcoin, the crypto market, BNB (Binance token), and all things Binance. Being an influential figure on the crypto Twitter influencers scene, CZ tweets his thoughts on the latest issues and news. In addition, he shares his talks and interviews about crypto in general.
Vitalik.eth: @VitalikButerin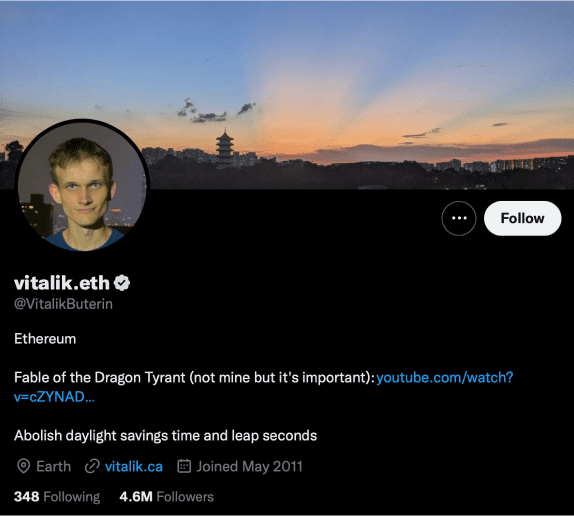 The Co-founder of Ethereum, Vitalik Buterin, is one of the most undisputed leaders of the Twitter crypto influencer base you should follow in the space. Buterin also co-founded Bitcoin Magazine, a site where he shared crypto-related content as a writer since 2011. Vitalik frequently posts on the platform to enrich his over 2.1 million Twitter followers. Vitalik is highly passionate about Ethereum and blockchain-based projects. If you're looking for an influencer to follow and learn from insightful commentaries, reviews, articles, and other resources on all things crypto - then there's no better place to start than from the co-founder of Vitalik.
Andreas Antonopoulos: @aantonop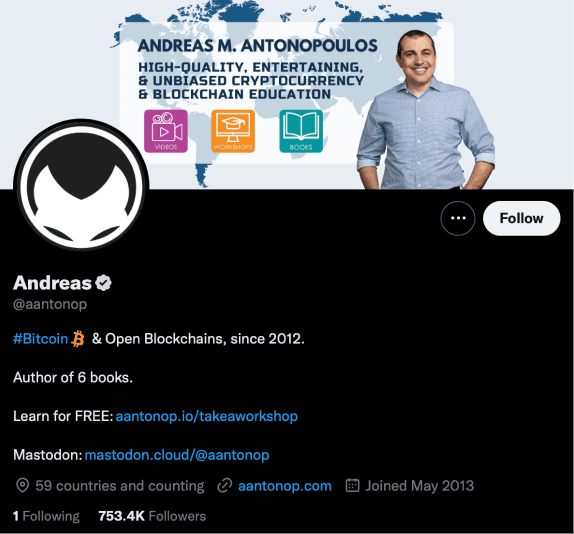 With more than 700,000 followers, Andreas is another rising crypto Twitter influencer of the crypto industry and understands the industry well. Being a prominent Bitcoin speaker and advocate, Andreas hosts the well-regarded podcast "Let's Talk Bitcoin" and is universally known as the biggest fan of cryptocurrency. Antonopoulos discusses a range of crypto issues in depth, specifically focusing on Bitcoin. Andreas is also the author of "Mastering Bitcoin" - one of the best guides to the technical side of Bitcoin. Apart from his podcast and YouTube channel, Andreas is very active on Twitter. You can glean meaningful insights, news, and resources to help make better investment decisions.
Sara Trojanowska: @AltcoinSara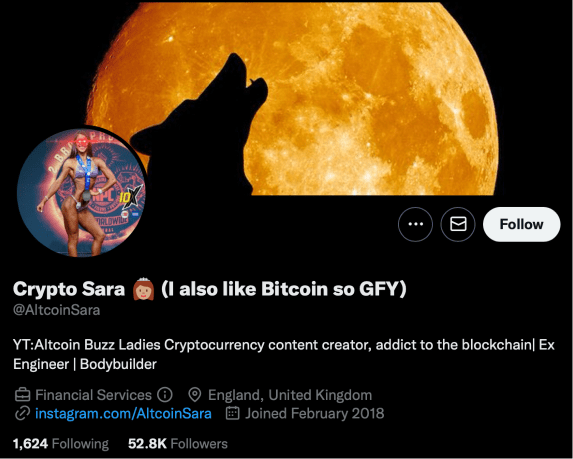 Altcoin Sara is one of the community's emerging crypto supporters. Crypto Sara is one the most respected women crypto Twitter influencers. Being highly educated about the various altcoins buzzing in the market, Sara talks about the advantages of cryptocurrencies and provides regular insights into their behavior. Sara is a bodybuilder and health buff on Instagram and Twitter, where she frequently posts about the benefits of cryptocurrency and how to get started in the space. In addition, Altcoin Sara is a YouTuber who posts videos on all things cryptocurrency on her network, called Altcoin Buzz Ladies.
Camila Russo: @CamiRusso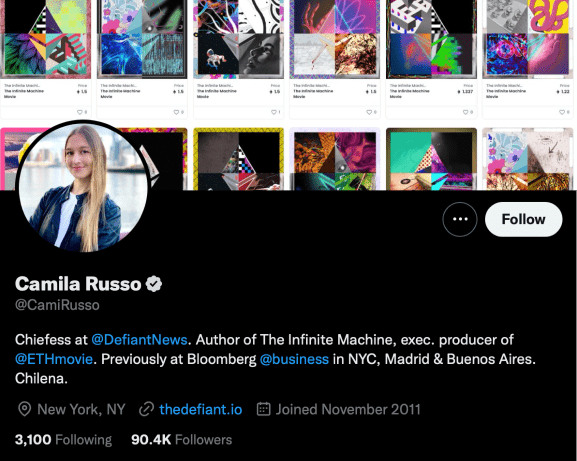 Camila Russo is a financial journalist, former Bloomberg reporter, and content creator who has written extensively about finance across continents and asset classes. She is currently the head honcho at The Defiant and is the author of The Infinite Machine, the first book on the history of Ethereum. Camila's Twitter feed is a treasure trove of information on the latest technology and a plethora of interactions with members of the crypto space. You can see her posts about news, current affairs, talks, interviews, opinions, and analyses on her Twitter account. Moreover, she leads a team of content creators who provide essential insights into the rapidly evolving world of crypto and decentralized finance.
Whale Panda: @whalepanda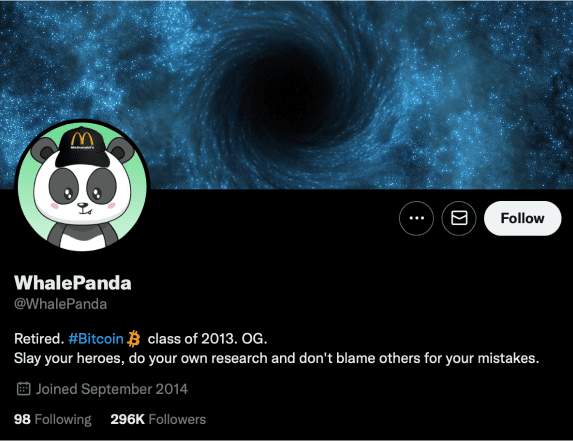 WhalePanda is a staple of the crypto-Twitter account, with over 297.5K million followers. WhalePanda, one of the earliest adopters of Bitcoin, has been involved in the crypto space since 2013. Stefan is an online marketing expert who has worked on projects for some of Europe's largest travel agencies and became very passionate about cryptocurrencies in late 2013. Currently, Stefan focuses on bitcoin trading to educate newcomers about blockchain technology development and provides advice on managing your portfolio. This crypto influencer Twitter is known for his humorous tweets on the news and current affairs on crypto. You can follow this crypto influencer on his Twitter account for sound advice.
Tim Draper: @TimDraper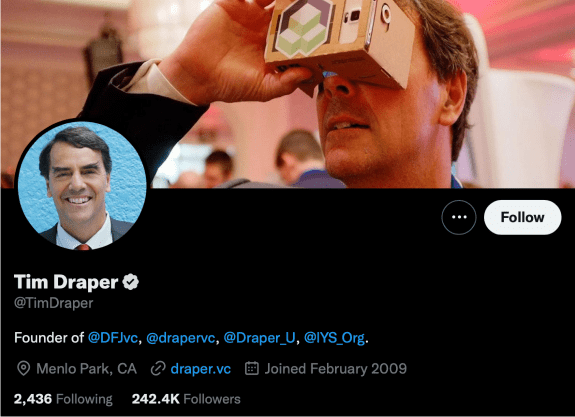 Tim Draper is a legendary figure in Silicon Valley, a founding partner of the venture capital firm Draper Fisher Jurvetson. Draper is a venture investor and has made hundreds of VC investments in companies, including Tesla, Skype, and SpaceX, and has made a fortune investing in cryptocurrencies. As a well-known venture capitalist and entrepreneur, Draper founded Draper Fisher Jurvetson and Draper University. Tim regularly posts his price forecasts, which should be great news for traders. Tim is also a strong advocate for crypto and blockchain adoption, frequently tweeting about the potential of these technologies.
Sam Bankman-Fried: @SBF_FTX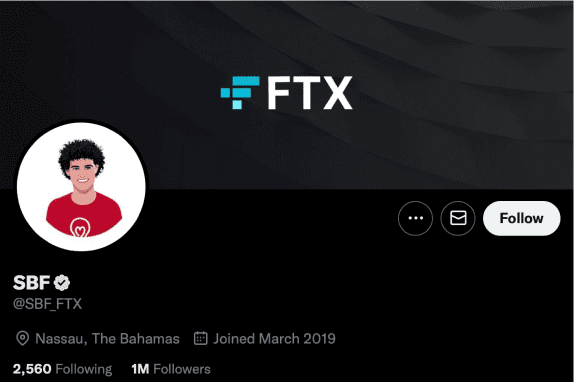 Sam Bankman-Fried (SBF), the founder of FTX, is one of the most notable figures in the blockchain world. Ranking as one of the wealthiest individuals in the world, he launched a trading firm and liquidity provider, Alameda Research, in 2017 before launching his exchange in 2019. FTX platform has become one of the fastest-growing crypto exchanges globally, originating as the sixth-largest exchange by volume. Bankman-Fried became one of the most influential figures on crypto Twitter influencers following the Defi boom of 2020. Even though the Defi boom did not last long, Bankman-Fried retained his influence in crypto by sharing his thoughts concerning the crypto market and posting long Twitter threads. On his Twitter account, Bankman shares FTX updates, opinions (which he disclaims as not financial advice), news, and new projects.