What is a micro influencer or micro blogger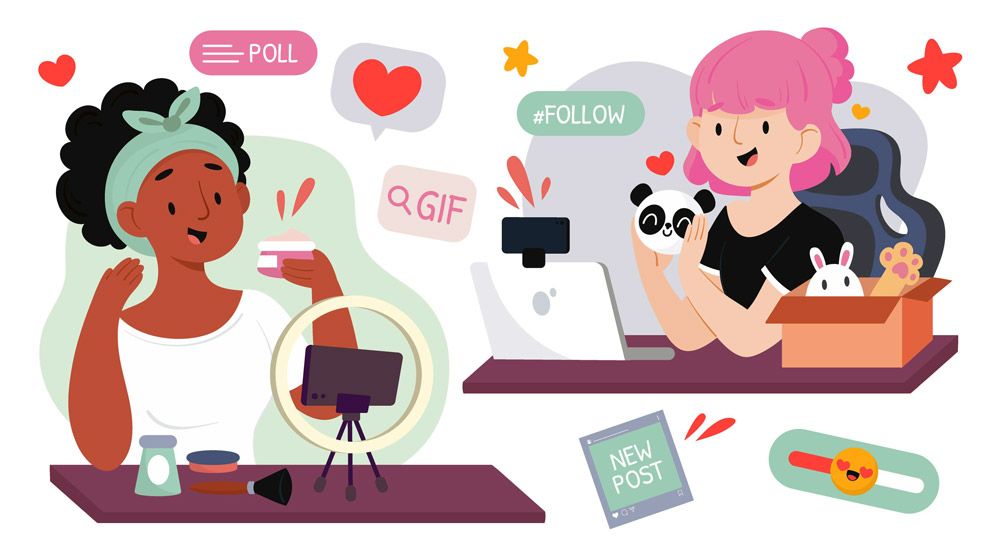 Micro influencer is opinion leader with an audience of 10,000-100,000 subscribers. Usually their blogs or social network accounts are niche. That means they are dedicated to one topic and targeted at a specific target audience with which they interact closely. Much denser than celebrities with their millions of subscribers. With constant interaction it turns into trusting dialogue. Users listen to micro bloggers advice, which is able to influence the audience: form a point of view, motivate them to take action including buying. The niche of a blog builds an audience with similar interests. For macro bloggers it is wide and rarely relevant. These are people from all industries who have loyalty to the influencers they follow.
Why is it more profitable to order advertising from micro influencers?
Advertising with micro influencers is often more effective than that of their counterparts with millions of subscribers. We have seen this more than once in practice. For example, we ordered an advertisement for a famous watch brand from two YouTube influencers: a popular and a less popular one. The less popular blogging the end got more clicks from his link in a post.
Why is it more profitable to cooperate with microbloggers?
The target audience is concentrated, so it's easier to convey information. The main thing is to decide on the topic. An advertisement for an organic cosmetics brand will fit perfectly into the format of a microblogging about skin care or lifestyle.
Pay attention to the geography
If you sell cosmetics in New York - order advertising from a popular influencer from New York. Its audience will be even more segmented. It is easier to negotiate cooperation with micro bloggers, they are more willing to listen to the conditions and go to experiments, because they:
they are more interested in making money;
they are not yet tired of online activities, unlike some macro bloggers or famous celebrities, whose accounts are controlled by managers;
they basically do not have managers, so negotiations will not turn into a "broken phone game".
willingness to work on barter or for a small fee The price for publication in niche blogs is several times lower than the cost that macro bloggers charge for advertising. Of course famous celebrities will reach more audience, but the number of likes and comments is not always proportional to sales and other specific results.
Efficiency of micro influencers
Large bloggers have a content plan scheduled for a month in advance, so you will have to wait longer for publication to be released or pay extra for urgency.
Interactivity and trust
As mentioned above, the audience of micro bloggers is more loyal and due to the built dialogue, reaction to comments, answers to questions, the nativeness of advertising increases. It seems to users that this is friendly advice and not a commercial offer. Advertising with influencers with small reach is an investment in the future. Any process is cyclical: rise, peak, stability and decline. At some point ratings of a macro influencer with high activity will start to fall, while the "average", on the contrary, will rise. By working together in the early stages you secure yourself a favorable advertising price during the peak period.
To choose a influencer for cooperation, carefully read their content and check statistics with Yoloco service:
Number of real subscribers, audience activity, reaction to posts, including advertising ones, clicks on links, etc.;
Make a portrait of his target audience with comments answering the question of why users follow him;
Offer to work on barter: you are offering a product or service, he is offering an advertisement. If you are confident in a product or ready for criticism, ask for an honest opinion. Sometimes anti-advertising works better than purchase recommendations. In which cases? For example, if among the five pluses, one minus is named;
Prepare a post that is appropriate in style and submit it to the blogger for approval. Be ready for edits, but it is better to agree in advance who sets the "tone" of the ad - customer or influencer;
Make a contract to avoid cheating. Alas, there are many scammers among bloggers who will take money but will not post an ad publication.
And we will take out the last important life hack separately. Some influencers rely on the client's inexperience in internet marketing and deceive him: they wind up likes, connect masslikeing, create fake accounts to imitate activity. Try Yoloco service today to check micro influencers all over the world.