Top Hashtags for Instagram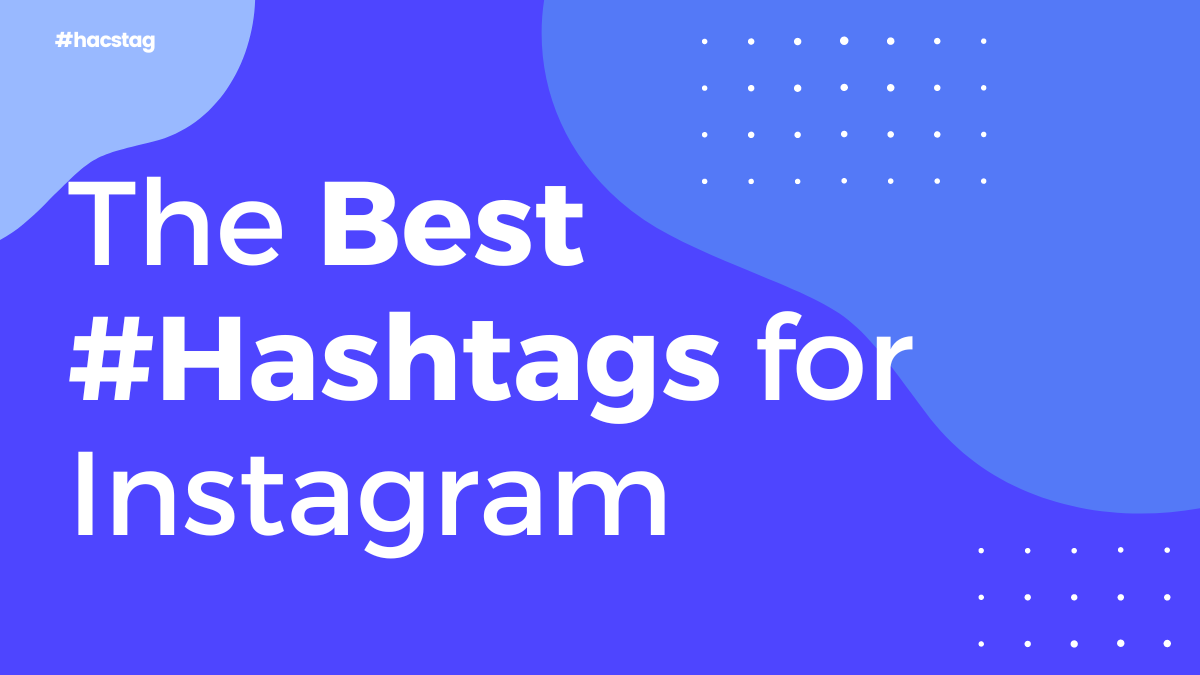 When you're looking to get yourself or your business noticed on Instagram, just having an intriguing post or reel is not enough - you need hashtags. Hashtags, or words prefaced by a hash (#) symbol, are used by social media sites to categorize similar content and help users engage with the content they are truly interested in. For instance, if your post is about your clothing brand, you can use the hashtag #fashion to attract Instagram users wanting fashion-related posts. They discover this content by searching or following specific hashtags and through Instagram's algorithms. If you're not experienced with using hashtags you may be unsure where to start. To attract the people who are likely to engage with your post and page, i.e. like, share or follow it, think about who your intended audience is and choose hashtags that relate closely to the content of your post as well as some that are trending, or popular. Wondering what these popular hashtags are? Well, we've made it easy and compiled lists of some of the top trending hashtags for Instagram below. Give them a try and watch your Instagram grow!
Best Instagram Hashtags for Likes and Follows
These hashtags help inform other Instagram users that you are looking to gain more likes and followers – some require you to reciprocate engagement, such as #like4like.
#followme
#follow
#followforfollow
#bestoftheday
#instalike
#follow4follow
#like4like
#TagsforLikes
#likeforlike
#instagood
Best Instagram Hashtags for Pet Lovers
#pets
#pet
#petstagram
#petsofinstagram
#cats
#dog
#petlover
#dogsofinstagram
#catlover
#animal
Best Instagram Hashtags for Travel Lovers
#travel
#adventure
#wanderlust
#TravelGram
#traveling
#travelling
#Travelphotography
#travelblogger
#instatravel
#traveler
Best Instagram Hashtags for the Fashion Industry
#fashion
#instafashion
#fashionblogger
#fashionista
#fashionstyle
#oufit
#fashiongram
#FashionAddict
#style
#styleinspiration

Best Instagram Hashtags for Fitness Influencers
#fitness
#workout
#healthy
#fitnessmotivation
#fitnessaddict
#fitfam
#lifestyle
#bodybuilding
#inspiration
#gym
Best Instagram Hashtags for Running a Contest or Giveaway
#contest
#giveaway
#win
#instacontest
#instagiveaway
#prize
#prizedraw
#contestentry
#epicgiveaway
#competition
Best Instagram Hashtags for Your Reels
#reels
#reelsinstagram
#reelitfeelit
#viralvideos
#mealsandreels
#fitnessreels
#Beautiful
#fun
#travelling
#friends 

Best Instagram Hashtags for Foodies
#food
#foodporn
#foodie
#instafood
#foodstagram
#foodgasm
#instafood
#foodphotography
#yummy
#eat
How to Use Hashtags
Using hashtags on Instagram is as simple as typing them into the text of your post, reel, or story - normally at the end of the post. To extend your reach and gain views you will want to add a minimum of 3 hashtags and up to a maximum of 30. There are mixed opinions on whether less is more, with some people saying 3-5 gets you the best engagement and others saying to use the full 30, so you may want to experiment with this yourself to see what number gets you more views. 

How to Find More Top Instagram Hashtags
If you liked the lists above but you're wanting to find other hashtags to use on your Instagram posts, there are several online tools like All-Hashtag, TagBlender, Inflact, Best-Hashtags that will generate hashtags for you based on your topic, as well as show you top trending hashtags and provide hashtag analytics so you can track the success of the hashtags you're using. Using these tools, and the lists and suggestions above, you can create your own Instagram marketing strategy and really put hashtags to work for you.