Top 15 Free Instagram Marketing Tools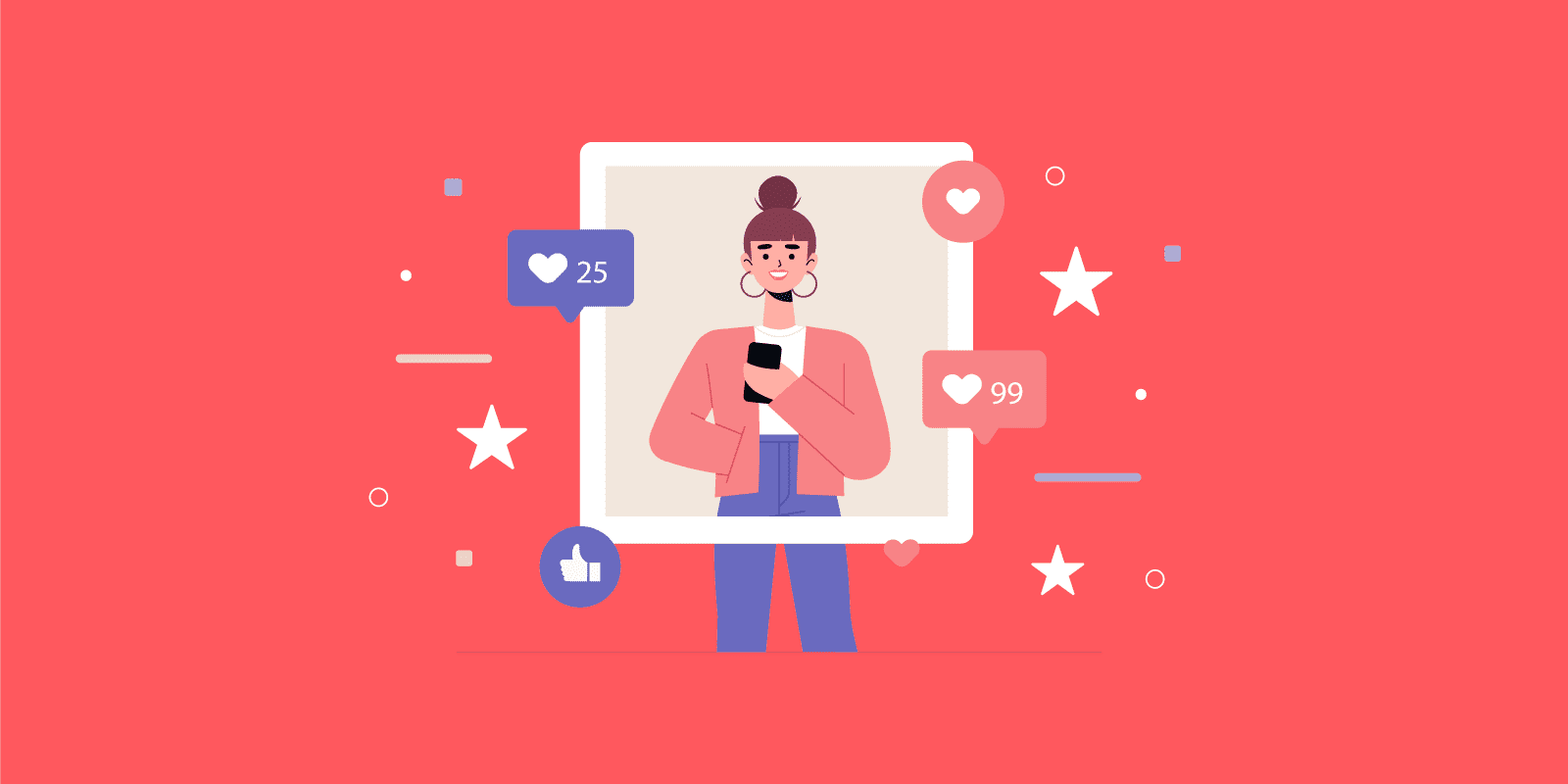 Are you trying to grow your Instagram followers and boost your presence on social media? If yes, then you're in the right hands. With over 200 million business accounts and 1.2 billion active users, Instagram is no longer a social platform for sharing images and short video clips. It's a full-fledged popular social network for reaching out to a vast audience and generating new leads. Unquestionably Instagram is the ideal place to market to your audience, drive engagement, and grow your business. But with the advancement in technology, it can be hard work to maintain your position as an influencer on Instagram. Your followers expect desirable posts with tempting eye-catching imaging. You need to search and decide on the best hashtags to attract new users to your posts. You've to check post analytics to know what's worked and flopped. Generating leads, building social proof, spreading brand awareness, and increasing engagement are essential aspects you must consider to grow your brand profile and make your presence impactful. To develop a foolproof Instagram marketing strategy and stand out from the crew, you need to rely on the Instagram marketing tools that work best with your marketing dynamic. Using the right Instagram marketing tools can prove beneficial to your business platform. Today, we'll go over some of the best Instagram growth tools for 2022 and how they can help you achieve social success. This list of Instagram tools will help you nail most of your business goals, from direct publishing and analyzing posts to collecting customer personas, scheduling your campaign, and much more! In this article, you'll go through the top most Instagram tools that can help speed up your work and make your instagraming flow more manageable. So, keep scrolling, and let's begin the venture toward your Instagram influencer marketing.
Today, there are hundreds of tools available you can use to support your marketing strategy, but below, we've compiled a list of the 15 best Instagram tools. These Insta tools will help you maximize engagement with your audience, stay inspired, keep you updated with the latest trends, and give you quick access to free, user-friendly templates for your feed, Reels, and Stories.
1. Canva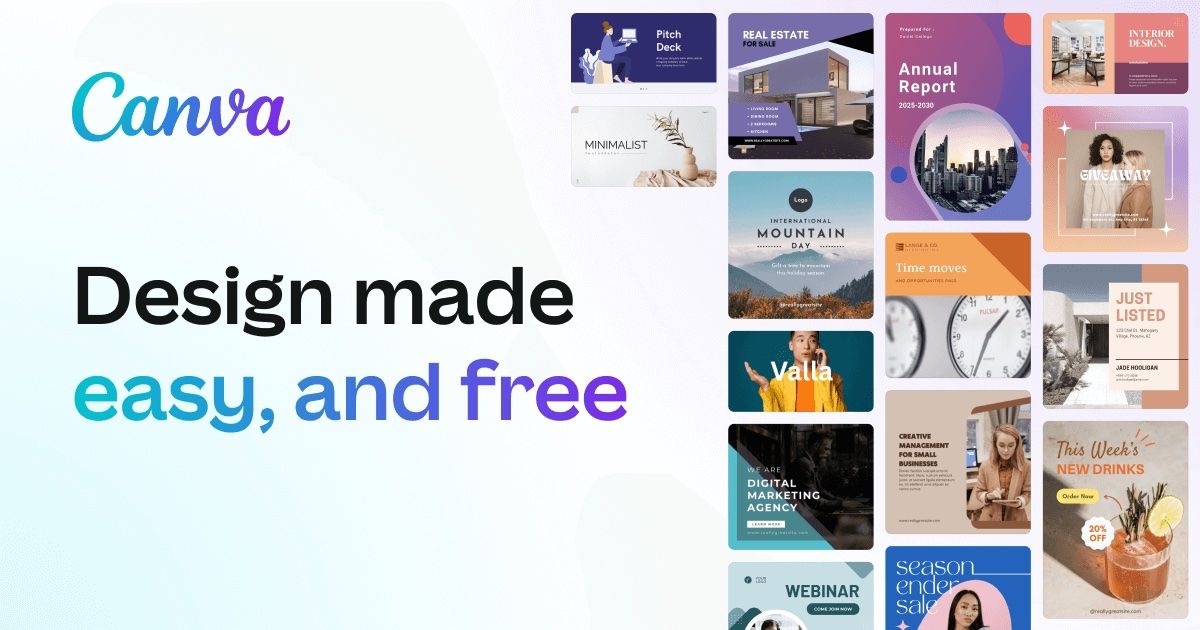 If you're looking to design help with Instagram stories and posts, look no further than Canva. This tool is your design superpower app that you can use to create images that stand out, whether it's in your Instagram feed or Stories. Canva is the ultimate beginner design tool for anyone looking to grow on social media channels. Canva can boast nearly 90,000 templates you can customize to create your own unique Instagram Stories. This fantastic Insta tool allows you to use the image builder to create killer photos, designs, flyers, branded docs, and whatever else you need. It complies with an entire built-in editor for designing Instagram posts with 164,000 templates for food posts, ads, sales, holidays, and everything else you want to promote your profile and grow followers' attention.
Key Features:
the perfect entry-level design tool
superimpose text and creates multi-image layouts
easy-to-made Instagram posts
massive library of pre-designed images, graphics, and animations
get basic designs for free
create high-quality photos, videos, presentations, print materials, logos, and other types of social media content
free online video recorder and video trimmer
unlimited text animations and speech bubbles
consistent, beautiful Instagram feed without a photo editing background or pro on board
Pricing plan:
Free trial – includes 23,000+ free Instagram post templates and 13,000+ free Instagram Stories templates.
Canva pro, paid plan starting at $12.95/month, includes transparent backgrounds, animation/GIF creation, and much more!
2. Yoloco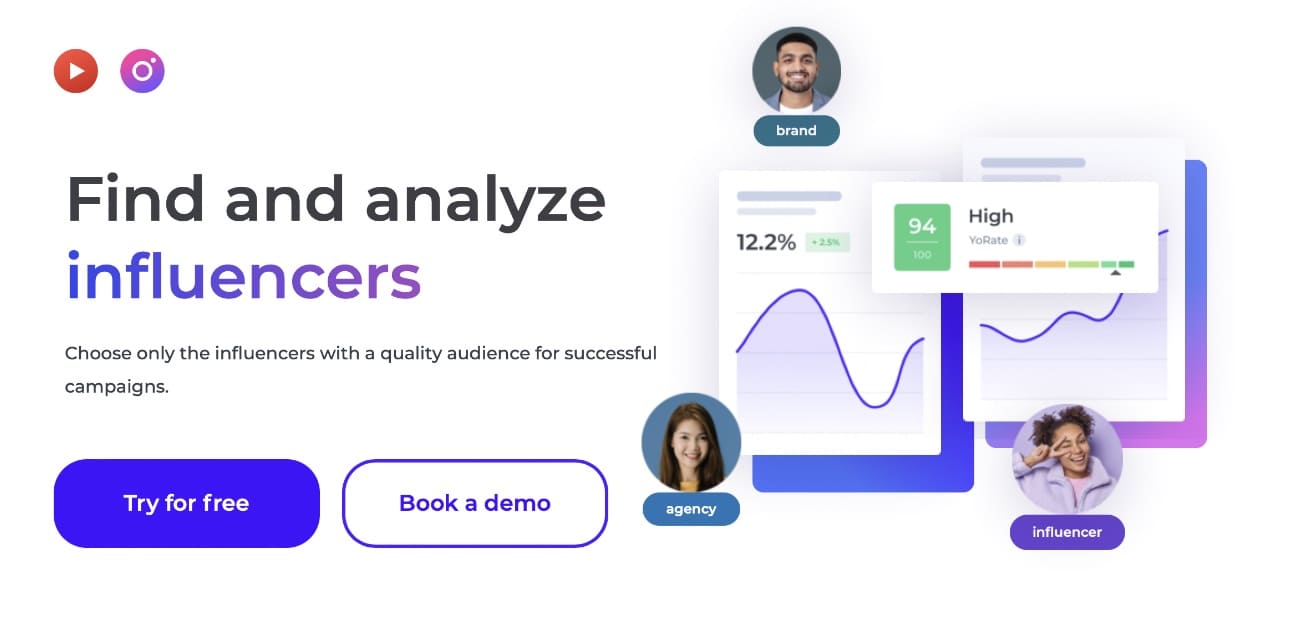 Yoloco is one of the top industry-standard Instagram analytics tools dedicated to digging deep into the performance of your Instagram content. Yoloco is an interactive tool for measuring real-time engagement and brand mentions specifically for mid-sized and up businesses. Yoloco allows you to track regular engagement data like followers and likes and get specific statistics about your followers, their location, and their social influence level. With this analytics toolkit, you can identify your most influential fans and become able to discover new opportunities for influencer marketing and outreach. This enticing Instagram marketing tool enables you to focus more on what's driving engagement and less on what's wasting time.
Key Features:
Search for Influencers
Influencer Analysis
Identifying filthy followers
Search for unique audience
More than 20 metrics to search for Influencers
Analysis of competitors in Instagram and YouTube
Search channels on YouTube
Managing Influencer Advertising Companies
Find influencers by location ( city or countre )
In-depth Instagram analytics
Simple and user-friendly interface
Pricing Plan:
2 free report
Starts at $40/month

3. Sprout Social
This tool is one of the top Instagram management tools for accessing truly insightful data about nearly every aspect of your Instagram account. With Sprout Social's analytics, you can schedule posts, manage comments, keep track of hashtags and even run reports, you can do it all. Sprout Social tool is great to connect and manage multiple Instagram profiles. It's an ideal tool for the bigger marketing team. Sprout Social gives you the most practical statistics, such as your change in followers, engagement rate, and average likes per post. This tool serves you beyond analytics, other than marketing purposes - from being a post scheduler to allow you to add multiple Instagram accounts to creating separate logins for multi-user teams and much more.
Key Features:
Offers extensive content scheduling and publishing tools
In-depth Instagram analytics
Track engagement and compare your store's account success against the success of your competitors
Monitor hashtags and comments
Sprout aggregates your Instagram notifications
Post-level performance insightful data
Pricing Plan:
30-day free trial
$99 per user/month for the standard plan
4. HootSuite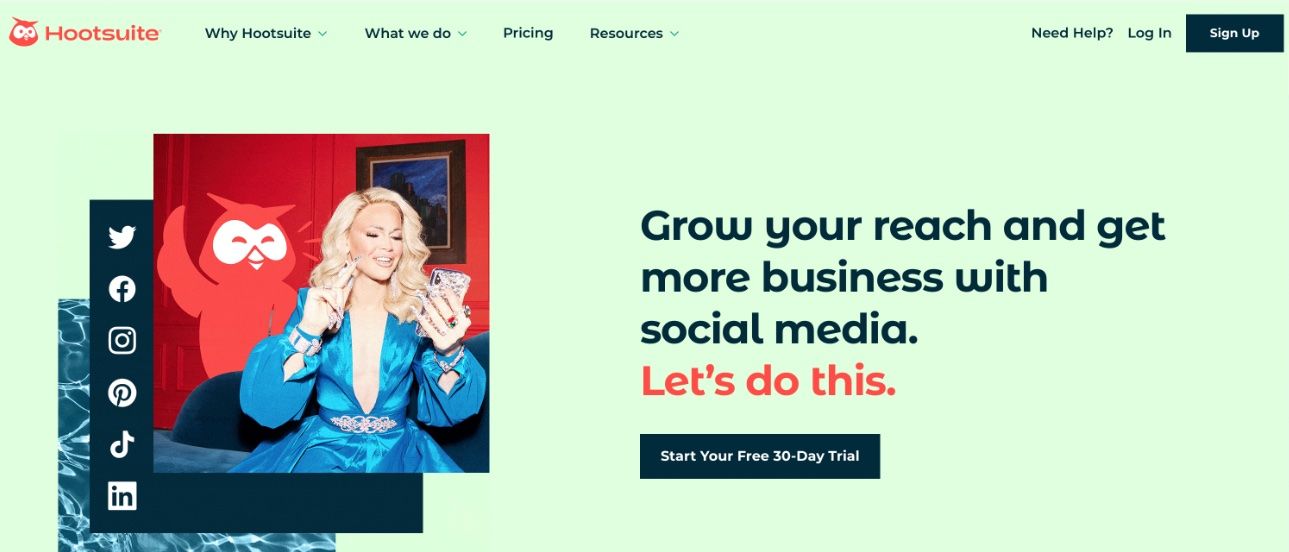 Hootsuite is one of the most popular and powerful Instagram management tools for small and large businesses. This social media management platform can schedule and publish Instagram posts. No matter, what your scheduling initiatives are, Hootsuite probably brings all the solutions to support them. With HootSuite, you can analyze your competitors when you 'follow' them on the platform. This incredible marketing tool is perfect for streamlining marketing for platforms like Facebook and Twitter, YouTube, Pinterest, and LinkedIn. With Hootsuite, you can schedule your Instagram posts in advance and even automatically post if you have an Instagram Business account. It also offers the Synapview app that analyzes your competitors. Moreover, it lets you monitor how your competitors perform and which hashtags play roles in their success.
Key Features:
Real-time integrator
All-in-one social media management platform for scheduling, messaging, monitoring, and analytics
The best Instagram management tool for large-scale businesses, multiple accounts, and users
Simple and user-friendly interface
Timely Schedule and publishing of social posts
Offers visual reports and bulk scheduling
Brainstorm and promote any Instagram post
Connect Instagram marketing with all other social accounts
Pricing Plan:
30-day free trial
Professional plan $29/month
5. VSCO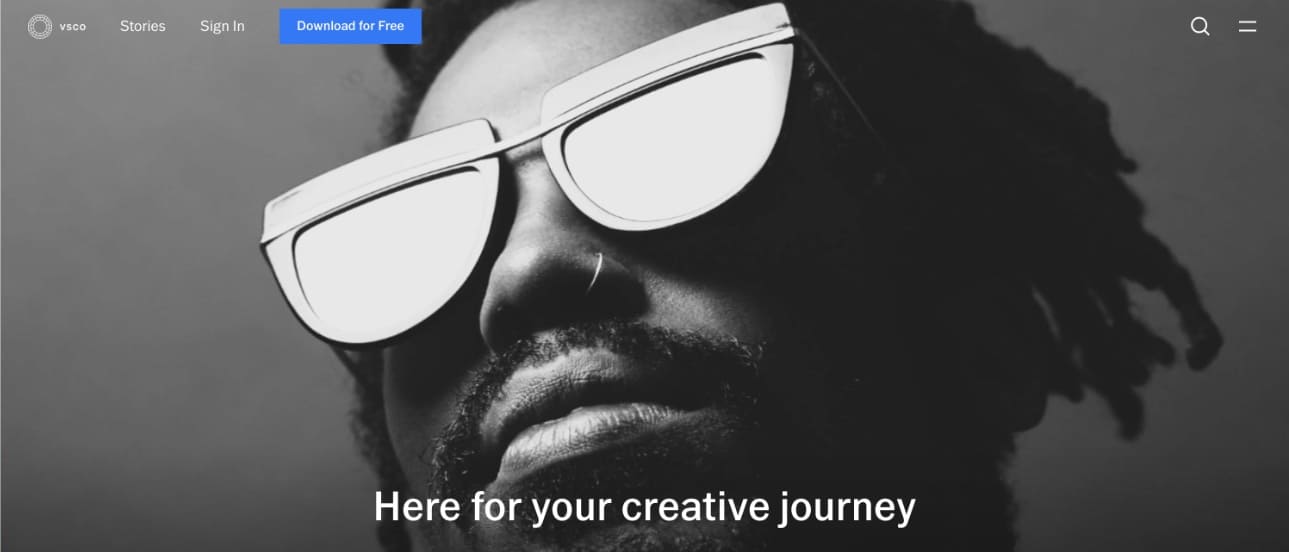 VSCO (short for Visual Supply Co.) is one of the most popular and original photo editing apps for the social media channel. This incredible Instagram marketing tool offers high-quality visuals that are the foundation of Instagram. VSCO has emerged as the premier Instagram tool for creating beautiful photos on the go. What makes this Instagram marketing tool so great is that it brings a lot of versatility that you can use to tweak elements like contrast, sharpness, grain, saturation, color balance, and brightness. If you use standard Instagram filters, then VSCO lets you stand out from the crowd. It offers ten free preset filters, an impressive collection of editing tools, and much more! VSCO also serves an online community - this feature allows you to share your images with VSCO peers or any other social network you want. Aside from its beautiful preset filters, this app has all the standard photo editing tools, such as cropping and contrast, all you need to elevate your photo quality.
Key Features:
The heart of every Instagram strategy
In-depth editing suite
Offer endless options for customizing your photos
Preset filter library
Unlimited video and photo editing tools
Unlock the potential of presets and editing tools
Pricing Plan:
Free trial plan
Paid plan $19.99 per year
6. Adobe Rush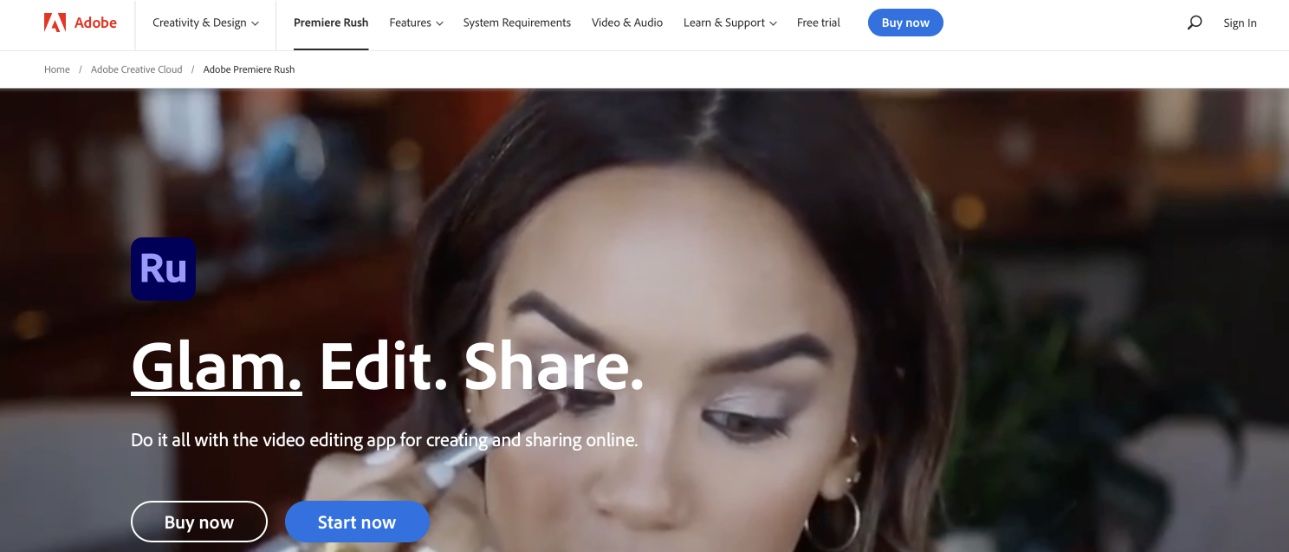 Adobe Rush is a premier tool for shooting, editing, making, and sharing high-quality videos/stories. This spectacular tool offers advanced mobile video editing skills than simply creating looping videos. With this Instagram marketing tool, you can edit, resize, enhance, add animations and titles, and much more. Adobe Rush is a fast, intuitive video editing app that lets individuals and businesses stick out from the endless glut of Instagram posts. Adobe makes it easy for anyone to create graphics on-the-move, without having any design or professional experience. This professional editing software makes it especially handy for creating Instagram Stories. Adobe Rush app has thousands of IG Stories templates and millions of free stock photos, filters, and fonts to apply. With this brilliant app, you can create customized Instagram Stories content that aligns perfectly with your brand and aesthetic. This Insta tool brings numerous easy-to-use design features to help you create beautiful Instagram Stories.
Key Features:
Simple initiative video editing app
Impressive toolkit with drag & drop transition
Preset voiceovers for unique, interactive stories
Professional Speed control and advanced audio controls
Titles to create high-quality social media videos
Pricing Plan:
Free trial plan
The creative Cloud Express plan is $9.999 per month.
7. Keyhole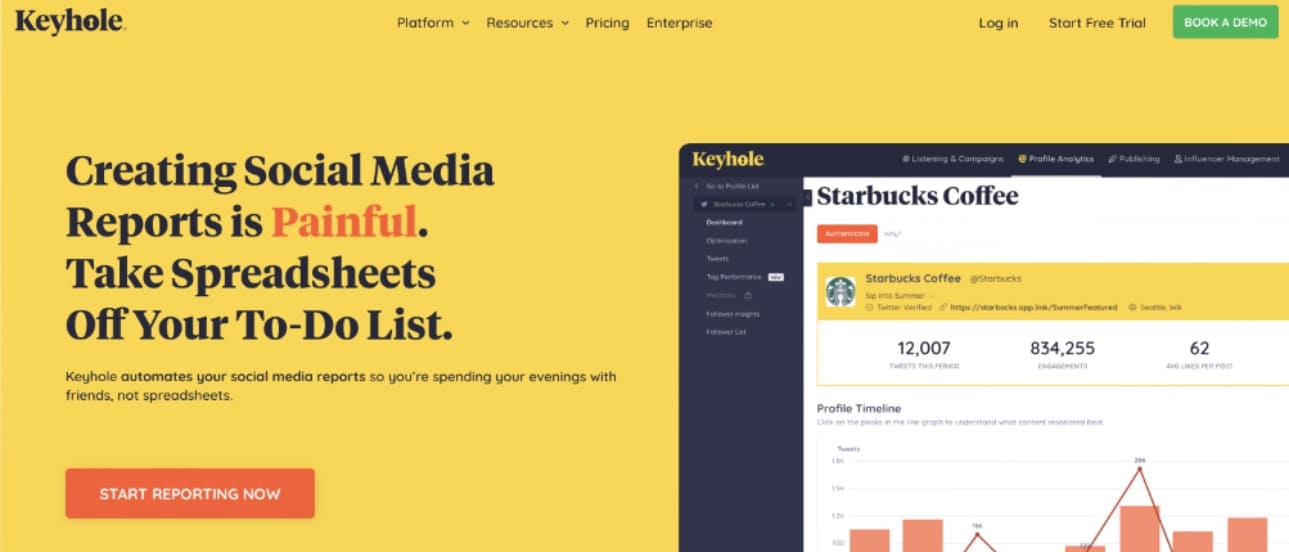 Keyhole is one of the most popular Instagram influencer marketing apps. This Instagram analytics tool is trustable by names like Mashable and Reuters to track their brand mentions and hashtags with other things. With this Instagram analytics tool, you can track relevant accounts and generate a visually rich report to optimize your Instagram marketing for better results. Keyhole is highly user-friendly and does multiple things that others can't. Keyhole helps you identify the influencers sharing Instagram posts with keywords or hashtags. Keyhole helps you find, vet, and manage influencers plus measure the success of individual influencer campaigns. With this incredible Insta tool, you can track all the Instagram metrics you need to show the ROI and impact of your Instagram campaigns.
Key Features:
Great tool for discovering, screening, connecting with, and evaluating influencer performance
Fastest and most cost-effective toolkit to grow your Instagram brand
In-depth profile analytics
Real-time data
Easy and simple evaluation
Guaranteed and safe Instagram influencer marketing
Clean and live dashboard
locate the best influencers for your brand and evaluate their engagement rates
Pricing Plan:
7-day free trial available
Custom plans $79.99/month
8. Buffer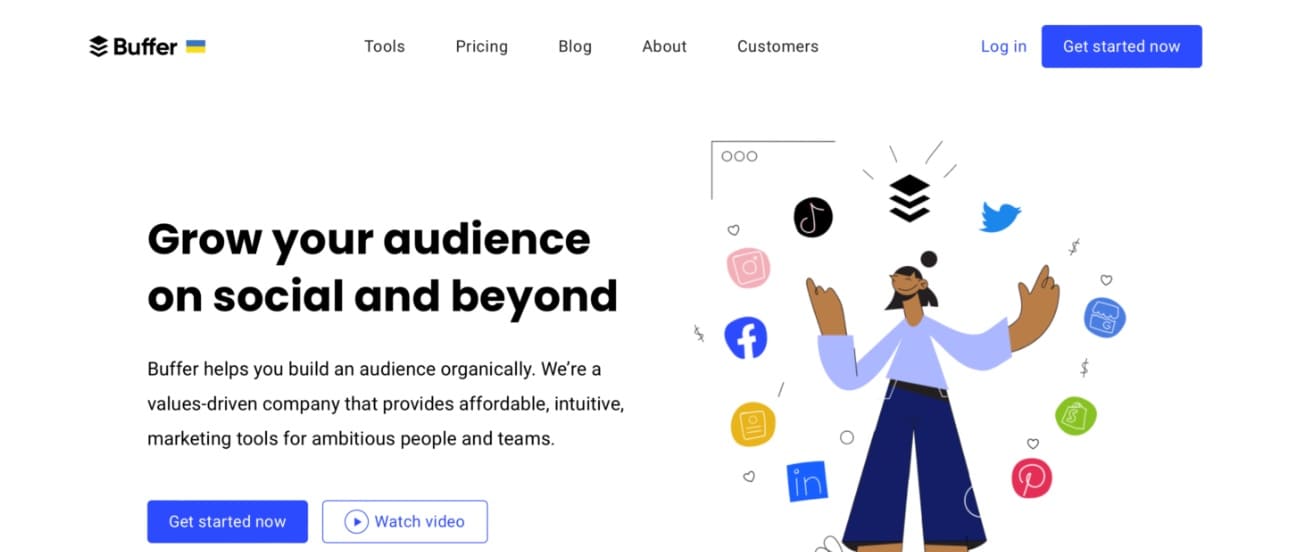 You might know Buffer as a tool to schedule Twitter and Facebook posts, but you also use it for Instagram. Buffer is one of the most authentic, affordable, and intuitive tools to reach the right audience on social media. A Buffer is an excellent tool for scheduling your Instagram posts. This tool helps you publish Instagram posts and stories right on schedule. With this powerful scheduling igtool, you can organize hashtags, plan the first comment, and make data-driven decisions through in-depth analytics. This Insta tool allows you to automate posts with a single image.
Key Features:
Whether you Prepare your posts from mobile or desktop and Buffer will post directly to Instagram
create and schedule Instagram Stories
Provides detailed analytics on the performance of your Instagram posts
Implant a trade Instagram grid on your website
Plan your posts ahead of time
Pricing Plan:
7-day free trial
Basic plan free
Pro plan $15/month
Premium plan $65/month
9. Combin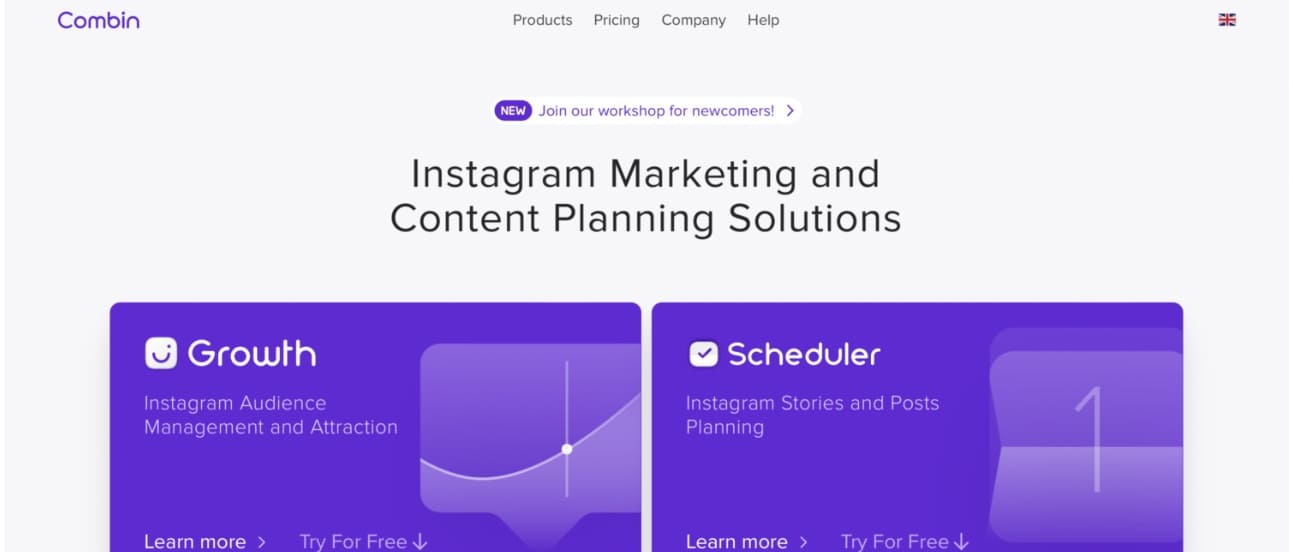 If you're looking to grow your audience organically, you should try out this Instagram tool. With Combin, you can find and attract new audiences. Combin is a growth tool that offers a powerful search function that helps you find posts and accounts by hashtag, location, hashtag+location. It also helps search among followers and commenters of your competitors. This uniquely effective tool lets you perform single and mass actions for following, unfollowing, liking, and commenting on your page. Combin lets you leave more than one comment with different text for different accounts in batches.
Key Features:
Fast, simple Instagram marketing tool to get Instagram density on your side and safe growth
leverage Instagram automation publishing
Foolproof Insta tool to search hashtags, steady, and natural growth
Search all your Instagram hashtags at once and pop up relevant posts in the window without getting penalized
Make your work easy by liking an image and leaving comments from the window too!
Schedules your tasks in time
Pricing Plan:
Basic version – free
Pro version - $30/month
10. Awario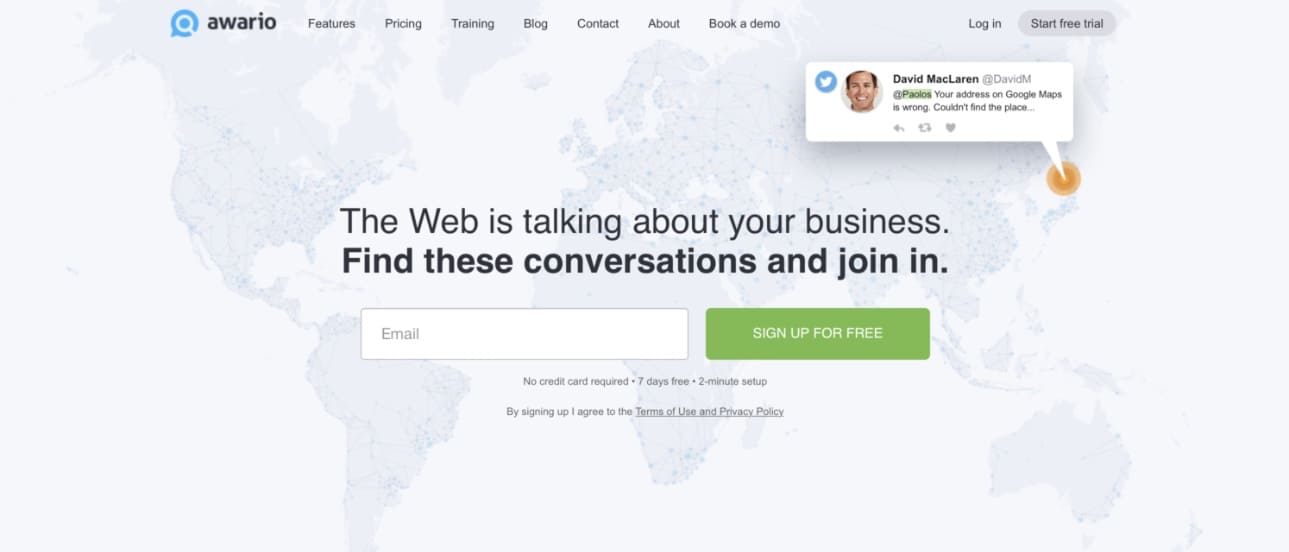 One of the best social media listening tools with a set of features is Awario. It's a spectacular tool for Instagram monitoring. It can track mentions of your brand, its products, promotional campaigns, and competitors across different networks without hassle. This Igtool is your influencer-management powerhouse. Awario scans all your chosen brand and industry hashtags and related discussions. Awario is an Instagram tool with multiple functions – one part reputation protection, one part influencer marketing, and one part brand marketing. This spectacular tool helps you engage with mentions in real time - you can connect with your leads and influencers easily.
Key Features:
Organic growth by joining the conversations about your niche
Your in-depth Instagram analytics
Answer customer questions plus improve brand reputation
Instant gratification connect new customers while you've got their attention
Instant notification on every comment about your business on Instagram
Show you the most influential accounts and develop a working relationship
Improves your social selling
Best Instagram monitoring platform for mid to large-sized businesses
Pricing Plan:
Free trial available
Pro plan $39/month
11. Socialinsider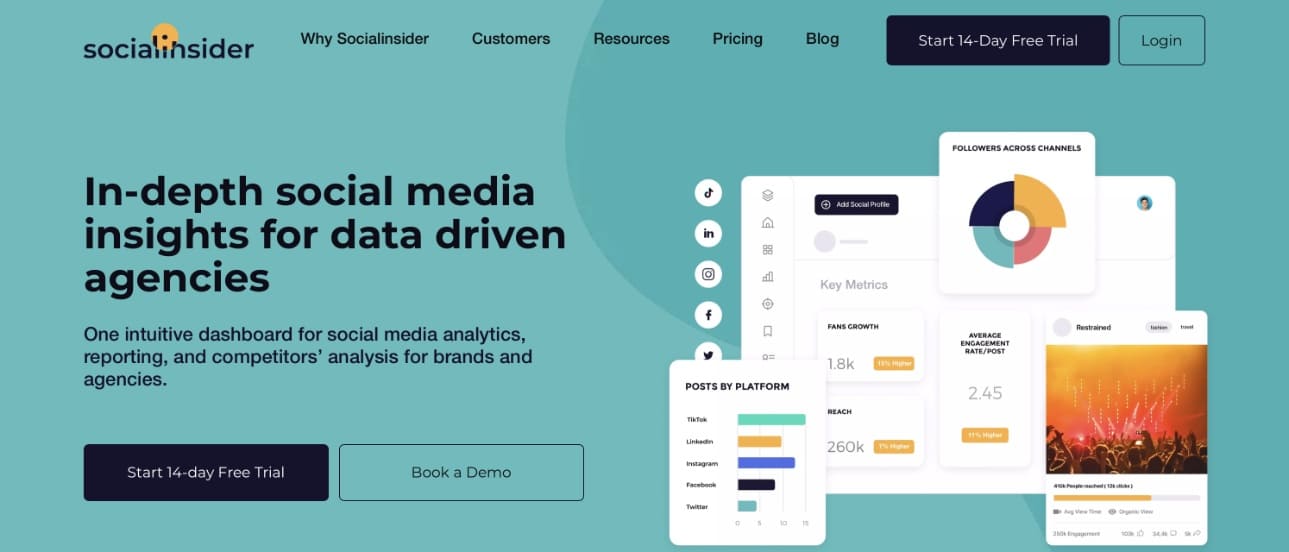 If you're looking for help with analytics specifically, you can try Socialinsider. With this great Insta tool, you can access insightful data about nearly every aspect of your Instagram account. This incredible tool can find the most practical statistics for you, such as your change in followers, engagement rate, and average likes per post. Socialinsider is loved and trusted by major brands such as Volvo and Honda as it offers Instagram analytics and reporting for digital agencies. Beyond analytics, you can use this tool to monitor Instagram Stories metrics or run hashtag analysis. This tool serves many other marketing purposes - from being a post scheduler to allowing you to add multiple Instagram accounts. You can also create separate logins for multi-user teams at the same time. It also lets you keep track of what your competition is doing.
Key Features:
Designed specifically for social media reporting
Monitors your Instagram content performance
Actionable Instagram campaign reporting
Track your competitors in real-time
Pricing Plan:
Free trial available
Paid plan $99/month
12. Tailwind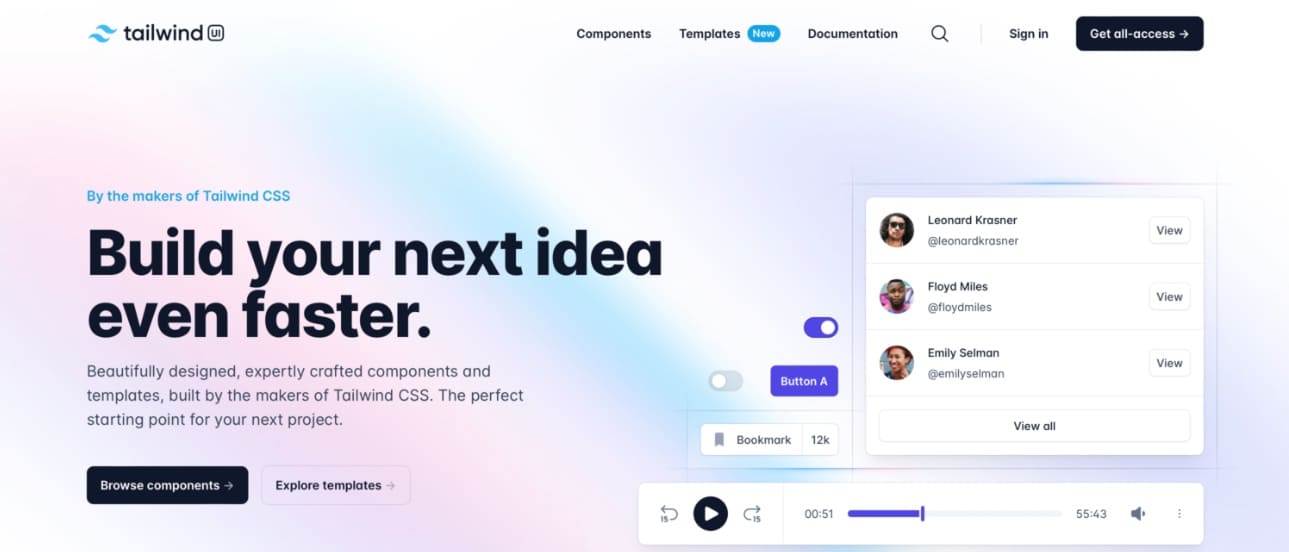 If you're looking for a personal trainer for your social and email marketing, look no further than Tailwind. This intuitive tool feels like a marketing team as it tells you exactly what to do and automates the most challenging parts of your Insta marketing so you can grow smarter & faster. This tool can visually plan, create, optimize, and publish eye-catching social content for you. Tailwind saves your time switching between separate tools for email, social, and design. Tailwind gives you a personalized marketing plan, posts ideas, and guides you every step of the way. Tailwind provides an easy-to-follow plan to stay organized and lead to the most impactful marketing. If you're tired of manually posting, Tailwind automatically publishes your social media content and improves your leads with automated email follow-up.
Key Features:
Versatile tool with bucket-full features
Automatic repost and publishing of content
All in one tool to create and Schedule your social & email marketing
Effortless planning and streamlined workflow
Built-in free bio creator feature
Example themes, gorgeous templates, and an easy-to-use email designer
Automatic personalized unique on-brand designs for each network
All-in-one marketing management personalized Instagram assistant that serves as a photo-artist, content creator, post planner, network optimizer, streamlined scheduler, growth partner, and link bio creator.
Pricing Plan:
Free plan available
Pro plan $39.9/month
13. Inshot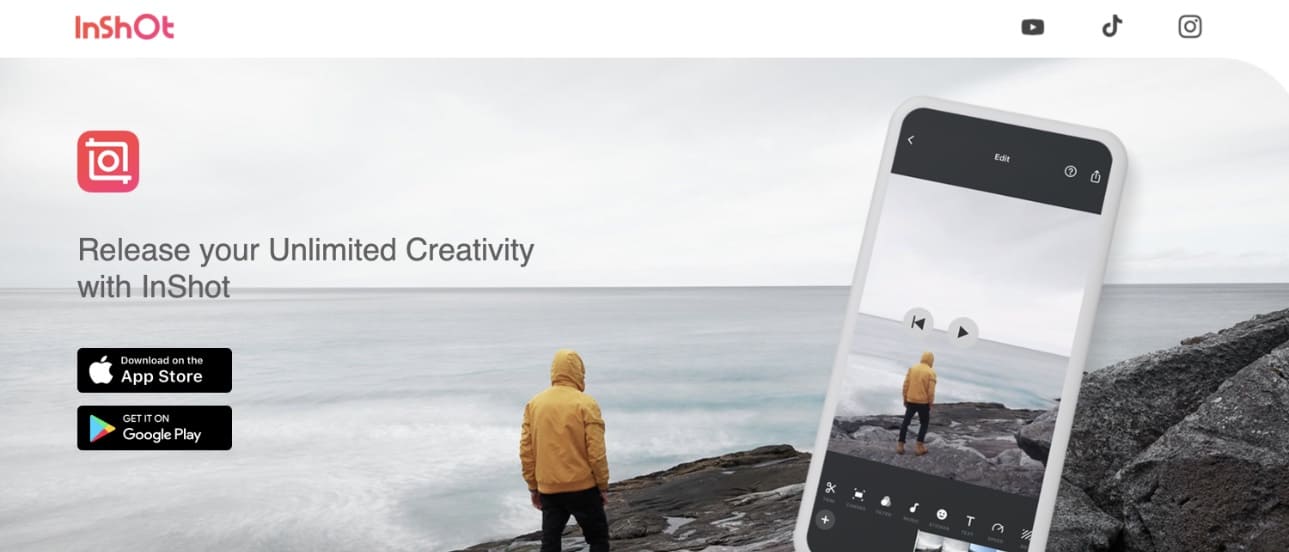 This is one of the best Instagram apps for photo and video editing. This app is designed for your content to fit your Instagram Stories post. With this feature-rich mobile app, you can add filters, music, text overlays, and stickers to personalize your Instagram Stories. The app provides minimalistic, elegant templates for creating stunning Instagram Reels. You can also add your music to video, like mp3 files and other formats for video optimizations. This tool can adjust your video's brightness, curves, resolution, contrast, merge, crop, and more!
Key Features:
Comprehensive video editor
Borders, filters, voice-overs, sync sound and video with timeline features
Instagram-ready video optimization
Personalized Insta reels
Pricing Plan:
Basic version free
Pro version $3.99/month
14. Linktree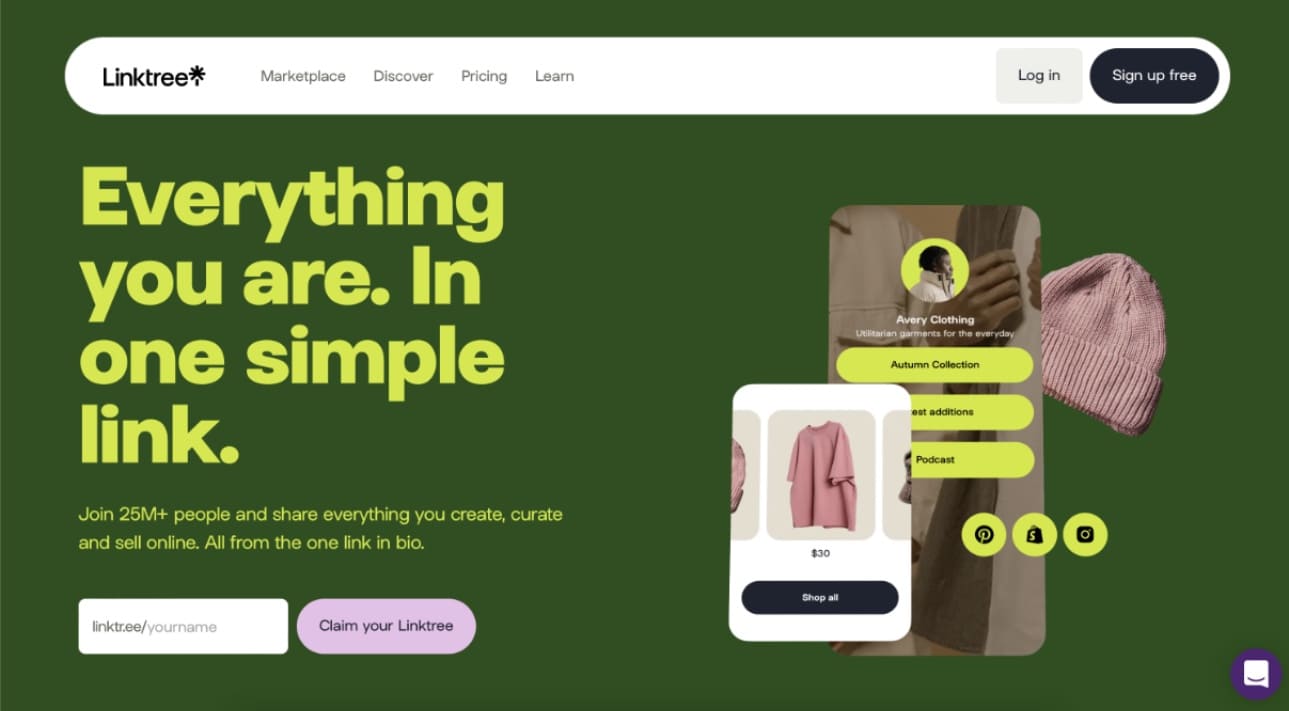 If you're frustrated with the aspect of Instagram that you are only allowed to post one link in your profile bio, then Linktree is a solution to this problem. The tool enables you to use your one bio link by creating a customizable page that houses the links of websites to which you want to drive your followers too. Not only can you use this tool to connect your followers to all of your content via a single link, but you can also use it to collect payments. Linktree is the perfect workaround with multiple clients simultaneously.
Key Features:
Insightful tool for creators, influencers, and brands
Make the content more discoverable
Saves time adding and removing things from your bio on several social channels through one link how clients how much traffic you've driven to their website
Linktree analytics to track total clicks per link
Offers custom colors, fonts, and images, drag & drop editor
Pricing Plan:
Basic plan free
Pro version $6/month
15. Sked Social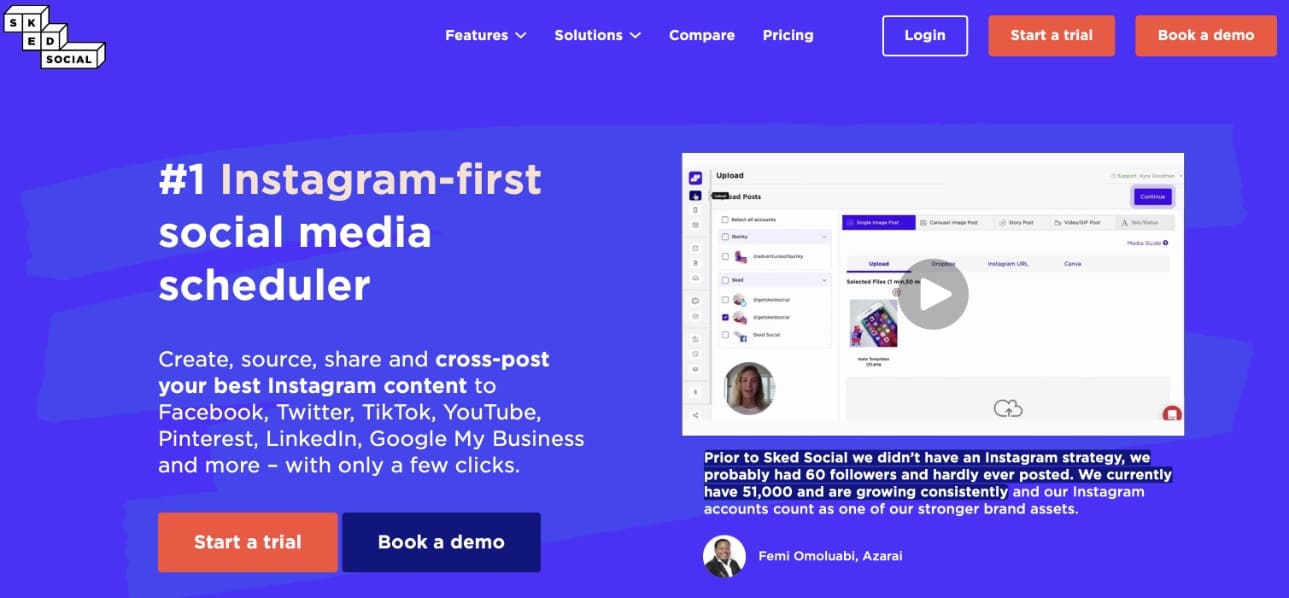 This tool has got everything you need for analyzing your Instagram account growth and continuing to grow your account even further. Sked is a scheduling platform with various features, including web-browser-based scheduling. It also serves to run more effective Instagram campaigns. Sked also comes with extensive photo-editing features and a built-in image editor. Using this Insta tool, you can tweak and fine-tune your photos well beyond Instagram default filters.
Key Features:
Specifically intended for an Instagram marketing
Offers mass uploading of photos
Saves your social media marketing efforts
An Instagram tool with an attractive user interface
Analytics tools, mobile apps, along with excellent customer service help
Pricing Plan:
One week free trial
Freelancer plan $25/month
Conclusion
In conclusion to our list, there's an absolute goldmine of Instagram tools for brands of all shapes and sizes. As you can see, the right tools will help you create more engaging posts that will bring the followers to come flocking to your page. Fine-tuning your photos for the sake of creativity is becoming more of an expectation as brands scramble for ways to make posts stand out. Instagramming is all about arming yourself with the right tool for a fair purpose. Now that you have the right Instagram marketing tools for the job, it's time to get out there and start downloading some of the above apps and experimenting with ways to elevate your presence and reap the rewards. It's as easy as that. Happy Instagramming!